Diversity

& Inclusion

Commission
The Diversity and Inclusion Commission aims to celebrate, protect, and raise awareness about diversity within SIBECOL members. The priority of our commission is the inclusion of those groups that have been historically excluded of the scientific community, thus welcoming and seeking the participation of all individuals regardless their ethnicity/racial identity, sex, sexual orientation, gender identity, gender expression, physical or mental difference, national origin, ideology, religion, family situation, age or socio-economic status.

Our specific objectives include:
1) to act as an observatory of the diversity within SIBECOL,
2) to propose and develop activities and policies that improve the visibility and inclusion of minority groups in SIBECOL,
3) to develop studies on diversity and inclusion directly or indirectly related to Ecology,
4) to collaborate with other scientific societies, professionals, groups, and entities to achieve these objectives.


Resources
Code of conduct
A code of conduct for a scientific event establishes values, standards, rules, and expectations of staff and attendees, along with procedures to follow when expectations are not met.
Please, feel free to use
this code of conduct
(available in English, Spanish, and Portuguese) and adapt it for your conferences and events. The idea of making this code of conduct freely available is for any scientific society to use it. This code of conduct has been prepared by the Commission on Diversity and Inclusion of the Iberian Society of Ecology (SIBECOL) and the Group of Gender and Science of the Iberian Society of Limnology (AIL). This is the first version (October 2023).
If you have questions about this code of conduct or additional ideas to improve it, contact to diversity@sibecol.org and genderscienceail@gmail.com
Guidelines for foreign researchers moving to Spain
This
document
has been created by the Commission on Diversity and Inclusion of the Iberian Society of Ecology (SIBECOL) with the collaboration of several people from different countries who have moved to Spain as predoctoral or postdoctoral researchers. This is the first version (31 March 2023).
These guidelines
aim to provide useful information for foreign researchers moving to Spain
(either European (EU) or non-European (non-EU)). While we wrote this document with the best intentions, note that each case is different and some sections might not apply equally to everyone.
Contact to your forthcoming host institution in Spain as soon as possible and ask them for all the procedures.
If you have additional information that might be useful to other researchers, contact to diversity@sibecol.org.
"Welcoming Labs" Poster
The SIBECOL Commission on Diversity and Inclusion has designed this "Welcoming Labs" poster, to make visible the diversity within SIBECOL and to communicate that our labs and research groups are a safe space for people belonging to groups that have historically been excluded from academic careers. The poster can be downloaded and printed. For instance, you can put the poster in your office door or in the lab.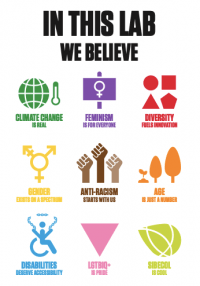 Join the D&I Commission!
Contact: diversity@sibecol.org